The Power of the Violet Flame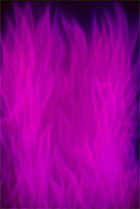 The violet flame is one of the greatest little-known spiritual tools on the planet, and a tremendous gift from God to mankind.
It's an aspect of God's light and energy, also known as the flame of forgiveness or the mercy flame.
Color
Science has demonstrated that of the seven major colors of the visible spectrum, violet has the highest frequency and is at the point of transition to the next octave of light vibration.
Amethyst gemstones and the colors purple and violet have been treasured down the ages and used for healing, the garments of royalty and religious ceremonial vestments.
Violet and purple are becoming increasingly popular in color healing. Dr. Bernard Jensen, renowned pioneer of research in the healing arts, especially iridology and color therapy, recognizes violet/purple as the highest of all colors for healing. He has found that the vibratory rate of purple and violet activates the pituitary gland.
He says: "This vibratory rate brings out all we need in order to put the body into harmony…Thinking of a person, praying for a person and projecting thoughts in the purple flame does a great amount of good…"
If you've read some of the Bible you might remember the story of Moses and the burning bush. 'And the angel of the Lord appeared unto him in a flame of fire out of the midst of a bush: and he looked, and, behold, the bush burned with fire, and the bush was not consumed.' (Exodus 3:2)  The bush wasn't consumed because it was a spiritual fire – the violet fire.